Coca Cola Chicken Wings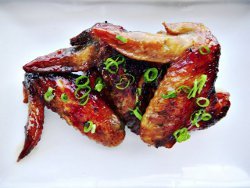 Serves 4
Ingredients
2 tbsp canola oil
2 lb chicken wings, wings and drummettes separated
2 tbsp soy sauce
2 tbsp dry sherry or Chinese rice wine
3/4 cup Coca-cola (not diet or anything flavored!)
2 scallions, chopped
a few pinches of freshly ground black pepper
Helpful tips and common mistakes
Whenever you are searing meat, it is important to have your pan and the oil in the pan very hot. This way it cooks the outside of the protein, creating a nice golden color, without cooking the entire meat. If you try to flip the wings over too early, you will find that the wings stick to the pan. When they are ready, they will "unstickify."  
As you can see below, I kept the wings whole, wing still attached to the drummette. You will get an even sear; however, if you do separate the two. You can see that if they are still attached, there are parts of the wings that do not touch the pan (I only chose to keep them together so it appears as if I'm giving each person more.)
When I first tried cooking the wings, the soy sauce mixture would reduce very quickly, not giving the wings enough time to cook. Therefore, I just simmered the wings in the liquid to give it the flavor and finished them in the oven. 
You can choose to use the remaining reduced liquid as a glaze, but I found that the wings were so flavorful already that it's not necessary. 
Even though these wings needed work, the outcome was well worth it. You get the slight sweetness from the soda and the saltiness from the soy sauce. It's especially a nice change from the typical fried wings. I served these wings with a side of baked sweet potato fries and you have a healthier version of a guilty meal!


Similar topics
---
Permissions in this forum:
You
cannot
reply to topics in this forum